You see a great job posting on Linkedin and think "Wow, I could do that." And just as you are about to start typing that cover letter you think, "Ugh, I'll have to send in my resume."
This might be you if:
You haven't touched your resume since you got the job you are in.
You thought your resume was awesome, until you sent it out to 5 different job postings and heard absolutely nothing back.
You were never really happy with your resume at all. (But once you got it done, why revisit it? You are a busy person!)
Don't worry, you are not alone.
But here's what no one tells you:  There are just a few key elements that will get your resume noticed.  In fact, most screeners (aka the HR interns who are responsible for weeding out unqualified candidates from massive stacks of resumes) are instructed to look for these key elements.  So, if you know which items to include and how to include them, you will most likely get past the screener, or the first step in the job search process.
1) Be Concise. 
If you are looking for a job that would require a screener, your resume should be one page. That's it.  (More senior executive roles are usually filled through recruiters and referrals, so the screeners are not in the process.)
"You don't understand.  I have A LOT of experience."
You are not putting every single work experience you ever had in your resume.   You are only including the items relevant for the role to which you are applying.
2) Be Relevant. 
Tailor your resume to the role.  Do some research on the industry and the company and look for repeatedly used keywords.  Also, check the role description and look for keywords specific to the role.  If you are applying for jobs in different industries, keep a version for each industry and then tweak it for each specific role.  Be sure to save it as "Your Name_Industry_Company Name" (e.g., Beena Kavalam_Brand Management_Personal Revolution LLC) or in some way that it is easy to tell what it is when you are uploading it.
The following tips (and the bonus tips in the video – click on my pic below to access) are not only for the screeners, but they also get your resume noticed by the hiring managers.
3) Be Specific.  
Add some meaty detail to your resume.  I recommend my clients use the Action-Results-Success (ARS) model for each bullet of their resume. For more detail on that, check out bonus tip #3 in the video below (2:37).
4) Be Success Focused.
It's the last part of the ARS formula and it is the most important. Be sure to use metrics to illustrate your results.  Bonus tip #2 in the video (2:00) goes into detail on this.
5) Be Classy. 
The worst thing for a person reading a resume is to see all these great experiences in the resume and then find a typo.  It's an immediate turn-off. Have a detailed-oriented friend (or one with a meticulous desk/car/purse who always seems put together) take a read of your 'final' version before you hit send.
One more thing:  If you are presenting your resume to the company for their review and you haven't proofread your work, it shows the company you really don't care about the quality of your brand.  It's an immediate dumpster dive for your resume (and your cover letter) if you mistake the company to which you are applying.  (It happens more than you think.)
So, before you hit send, take a breath, close your eyes, and stretch.  Then, check the email, resume and/or cover letter for typos and make sure you've attached the right ones!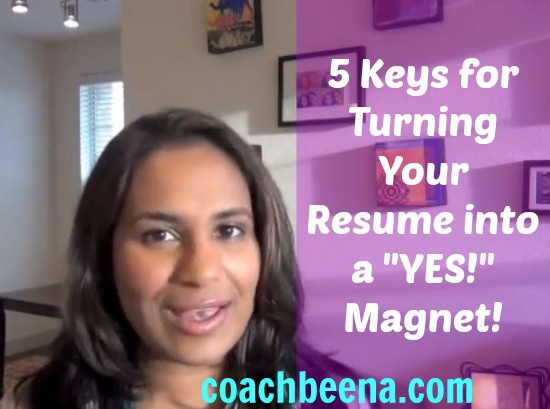 Believing in you,