Time to Shake Your Moneymaker … the right way!
No, I'm not talking about a new dance craze or viral video (ala Harlem shake). I'm talking about your HANDSHAKE!
Seriously, you may think you have a good handshake, but does yours really stand up to the rest?
Assess Your Shake
1) do you make eye contact and smile when your hand meets the other's?
2) do you have a positive, open body stance when you lead up to the shake?
3) do you have a firm strong grip?
4) do you shake for at least 2 seconds?
If you answered no to any of the above questions, then you might not be giving off the best first impression.  So, read on for ways to improve your shake!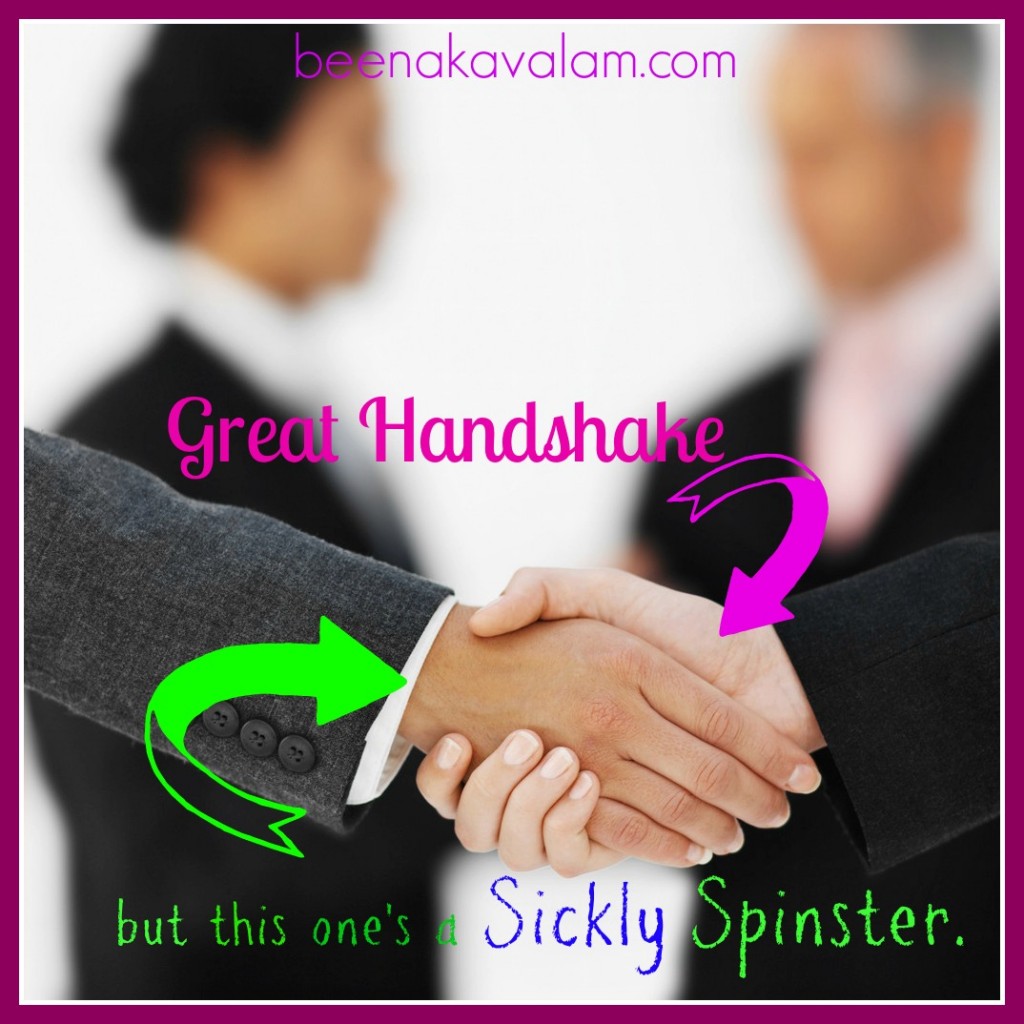 Why is the handshake so important?
Even in today's digital age, 55% of all human communication is still through body language.  The hand shake is your first impression with a new colleague and if you don't have a good one… it leaves a "bad" impression that can be hard to shake.  (pun intended.)
What are some handshake absolute do not do's?
Warning:  Do NOT do any of the following.
As a manager and a career coach, I've been on the other side of each of these.  They immediately cause the recipient to have a negative impression of the person.  Fair or unfair, consciously or subconsciously…it happens, so why not get it right?

MUST NOT DO's:
Here are some bad practices I've encountered:
THE DEAD FISH – You make the other person do all the work.  Your hand is limb and is just there.  It implies that you are not eager and kind of demanding (and high maintenance).  Add on negative points if your hand is super cold or super sweaty.  Ick.
THE MARIE ANTONIETTE – a variation of the above, but your hand is turned so your palm is facing down.  It's as if the person should be kissing your hand.  Major drama queen signal!
THE SICKLY SPINSTER – In this handshake, you try a little bit more, but the hand shake is so light that you come off as meek and lacking in confidence.  It can also be a career killer.
BURLY RUGBY PLAYER – Most women do not have this problem, but some do overcompensate and end up CRUSHING the hand of the person they are trying to impress. Unfortunately, you leave the impression of "ouch" instead.

DO's

So, here's how to have a better and strong hand shake.
SMILE.
Look the person in the eye.
Extend your right arm out and slightly to the left.  Important: Do not lose eye contact while shaking hands.   Don't worry your hands will meet with the other person's even if you are not looking at his/her hand.
Grasp the person's right hand firmly.  Women you can probably go a bit stronger on this than you normally do.
Two or three shakes (up and down) … and release.

BONUS TIP:

It helps to say the person's name while you are shaking his/her hand.  This does two things:
It helps you remember this person's name and for them to remember you. Think about it:  You are making eye contact, you are concentrating on this person and smiling – it will be a lot more memorable to you and to him/her.  Plus, you stand out because most people are trying to think about their pitch and not concentrating on the person.  You will stand out in a major way.
It puts the other person at ease.  People love hearing their own name.  When you say his/her name and pronounce it correctly (or try to)… it can go a long way to making a good impression.  It subconsciously indicates you care.
So, now it's your turn.
I know you've shaken a few hands in your career.  What do you like or dislike?  What are some of your stories of 'not-so-great' handshakes? Share your favorite 'shake stories' below!
If you liked this post, please share it. Hit on your favorite social medium below and SHARE! Thanks, gang. 🙂